I'm so happy you've found your way to me!
You're probably looking for a coach who can help you in more than one area.
One to give you the direction you need and help you achieve your success but also a coach who cares about you and is there to celebrate your wins with you!
Someone who's in your corner to help you navigate the twists and turns of growth and the real life challenges of being a woman running your own business in real time.
Yes, I'll help you implement a successful strategy in your business.
Yes, I'll help you with business models and building out your services and programmes.
Yes, I'll teach you the art of selling so you can increase your profit with confidence
But the work we will do together is not just transactional.
I'll also dive deep into what's stopping you in the first place, making our work deeply transformational. You won't just adopt new techniques and strategies, but resolve issues, beliefs and blocks that have stood in your way in more ways than one, sometimes for years.
Reconnect with yourself for your inner and outer success
Our work will improve the relationships in your life and most importantly, reconnect and strengthen the relationship you have with yourself, helping you to master your emotions, follow your intuition and raise self-awareness.
Learning an intuitive approach will help you to discover and lean into a new, higher version of you.
I'm proud to hold space for bold women like you to transform your business and life, so whether your focus is winning your first client, attracting new clients or overcoming stubborn mindset blocks, I'm here to help you do that - and more.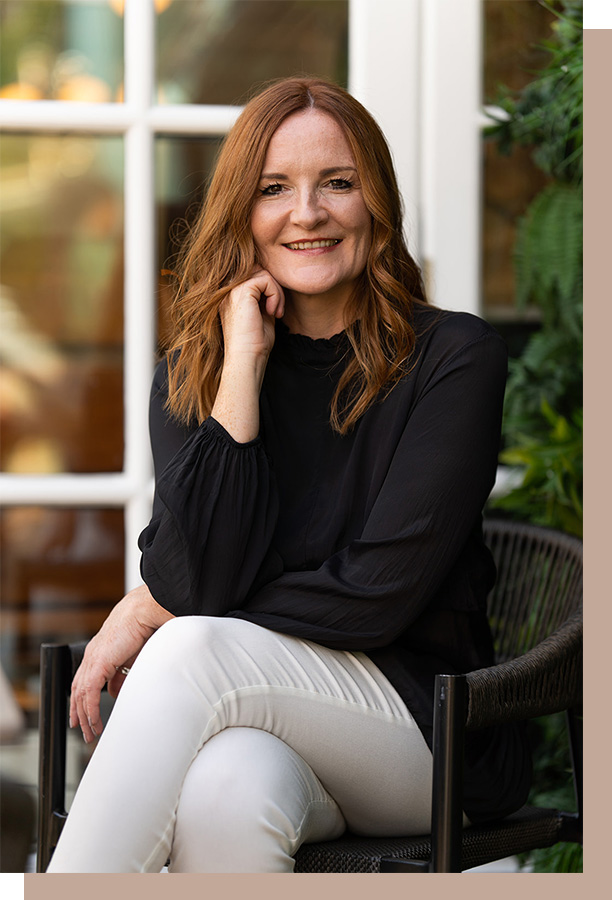 When my daughter was just three years old, a series of events led me to make a decision to leave my successful corporate career.
The demands and exhaustion from high-performance were leading me to burnout for the second time in my life and I yearned to be free from the chains of corporate culture.
Raising my daughter single-handedly meant my own values had shifted drastically and what I had loved before became something I just didn't want anymore.
The desire to do and be something different and be present with my daughter was my driver.
I'd always thought of the entrepreneurial world as being for others and 'not for me', but I soon discovered this was just a limiting belief after so many years of programming from others.
I left the hustle and grind of the corporate world to the sounds of "You must be mad", "Why would you leave your job in your position?" and "You won't find anything else this good".
Far from encouraging, but my heart and mind were set.
I took a 'stepping-stone' role in publishing sales with no view of where that step would ultimately take me, but here's the truth.
You can't make 'giant leaps' all the time and you don't always need to see the entire picture.
Often, knowing your next best step is enough.
Because once you know your vision and set your goals, you can take the steps towards them and that's exactly how I made my change.
I knew what was important and I knew what I didn't want.
That was the first step of many that brought me here today, doing what I love and helping other women to change and grow.
Every journey is unique, but it's true that the path to success is rarely smooth. With twists, turns and wins and losses, I've had my fair share like most, but following my intuition and heart always leads me the right way.
Transformational Business & Mindset Coach, NLP Practitioner, Founder of COACH Magazine and Podcast and Award-winning Businesswoman with over two decades of success in high-performance media sales and business consultancy.
My zone of genius is in helping you to expand to grow your business whilst simultaneously helping you to unlock your blocks and become fully empowered.
I work in a highly intuitive way and I'm here to shine a light on the blind-spots and help you to explore in a deeper way to get clarity and certainty on the direction of your business.
I'll also bring accountability and coach you in a way that's aligned with who you are now, who you want to be and all you want to achieve.
When you get out of your own way and let go of the past stories and beliefs that hold you back, you create valuable space for what you want to flow in.
You just need someone to help you access your own gifts and talents and direct them in the right way.
Someone who already believes in you and knows you can do it.